Betting revolution will change the world—
JUNGLEˣ is an organization that aspires to change the world through innovation and management, with "poison" as our core engine.
We have developed this concept since 2008, have completed the scenario in 2015, have granted the various rights in 2018, we are now ready for social implementation. Our raison d'être is to design and develop products that are full of "poison", to
create a sustainable betting experience that people can enjoy over the generation
, to
enrich the lives of those involved
, and to
be an inspiration to others
. The team at JUNGLEˣ is very creatively diverse, and each of us has had an outstanding career in various fields. We always design our protocols to
look at things from a different angle
. We are constantly making improvements and updating our products to see what kind of supreme experience we can create and what type of betting we can create to achieve that. The reason is
we are researchers, dreamers, and sometimes mad persons
. JUNGLEˣ wants to bring the world a mind-blowing supreme experience through "poison". We hope
you will enjoy the "shock that will change your concept of what is possible"
.
The problems that exist in the world today cannot be solved by the level of thinking and consciousness that created them. -Albert Einstein
NEWS
JOURNAL
ABOUT "JUNGLEˣ"
Collective Genius
Invention and discovery start here
The Sustainable Development Goals (SDGs) are 17 global goals set by the United Nations General Assembly to be achieved by the year 2030. In its betting-related initiatives, Jungleˣ contributes to Goal 8, "
Decent Work and Economic Growth
: Promote sustained, inclusive and sustainable economic growth, full and productive employment and decent work for all" Goal 12, "
Responsible Consumption and Production
: Ensure sustainable consumption and production patterns" and Goal 14, "
Life Below Water
: Conserve and sustainably use the oceans, seas and marine resources for sustainable development".
ABOUT JUNGLEbet
Product Name :
JUNGLEbet
Product Tagline :
Modern In-Play.
Product Concept :
The World's Most Comfortable In-Play.
JUNGLEbet Medium
CORPORATE DATA
JUNGLEˣ
Panja NAOE
Modern Betting
Recommendation
You (Naoe) are
a hybrid and a nonconformist
. So, you will succeed. But you need to be isolated. You are an object of fear for the mediocre, and an object of envy for the brilliant.
The Japan × Sports × Open innovation approach to 2020 is attracting attention from around the world. Among these,
betting has a very strong potential for growth
. It is an industry where change can occur precisely because there are biases. I hope
you can create a new ecosystem to support athletes
.
ADVISORY BOARD
Itaru Kobayashi
Professor of College of Health and Welfare in J.F. Oberlin University
Doctor (Sports Science) Graduate of University of Tokyo / Ex-professional Baseball Player in Japan / Ex-director of Softbank Hawks / MBA in Columbia University
Recommendation
I worked for Softbank for 10 years by being asked directly by Mr. Masayoshi Son.
Panja's way of thinking and the messages he sends are similar to Mr. Masa Son's
, and I am very much inspired by his breakthrough power. Whenever I attend meetings and we talk about the future together, I always find something new and I feel that
he is an entrepreneur with unique ideas and the ability to realize them
.
Japan has recently found new room for growth through DX, but instead of changing existing industries,
JUNGLE
ˣ
is trying to create a completely new ecosystem through betting
. I hope that
betting will contribute to society
and create a new picture of vitality in the sports industry and in Japan as a whole.
Hideo Misawa
Coach of American Football Club WARRIORS in University of Tokyo
Recommendation
If I may say so without fear of misunderstanding, he is a "
crazy genius
". I have worked with many outstanding people in the world of finance and sports business, but it is hard to find someone as smart as him. I am sure that he has been able to accomplish things with innovative solutions based on flexible ideas that do not fit into the framework of common sense, which is because he is regarded as a nonconformist.
In our age of uncertainty, it is hard to give support and encouragement unless you are truly excited. In such a situation,
my soul has been shaking because of JUNGLE
ˣ
's high-minded philosophy and overwhelming driving force
. In order to create a future where everyone can lead a better life through sports, I would like to unleash all of my skill of strength.
PERSON TYPE
What do you imagine when you look at these LEGO bricks?
A truly smart person is the one who has a high level of abstract thinking.
Copyright: LEGO, Agency: Blattner Brunner, USA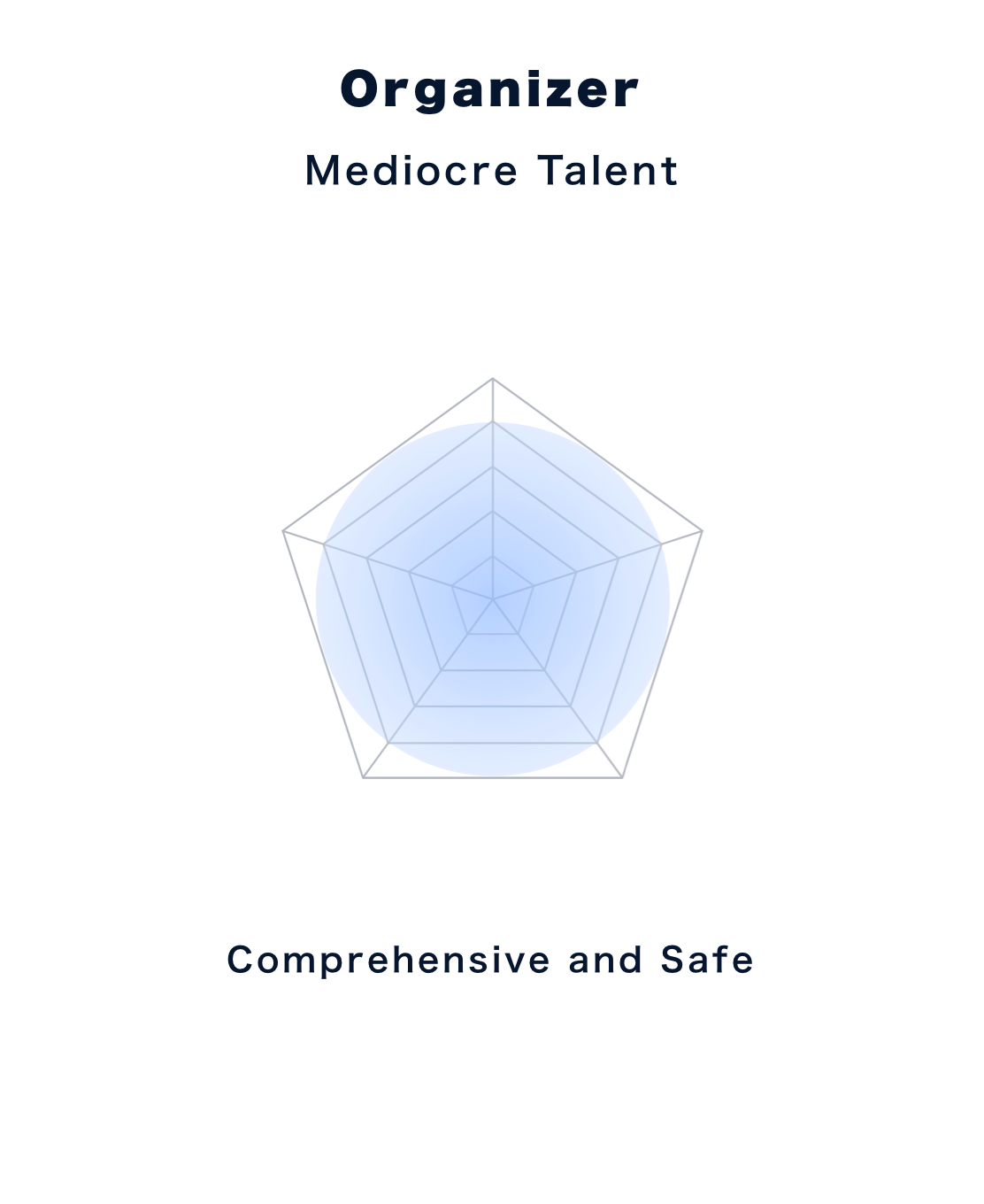 SELECTION PROCESS
This business is difficult. It's okay to be difficult. If it were easy, everyone would be able to do it.

That's why we look for only geniuses or outstanding people to be part of our team.

Otherwise, they can not communicate with me and we can't make it.

-Panja NAOE